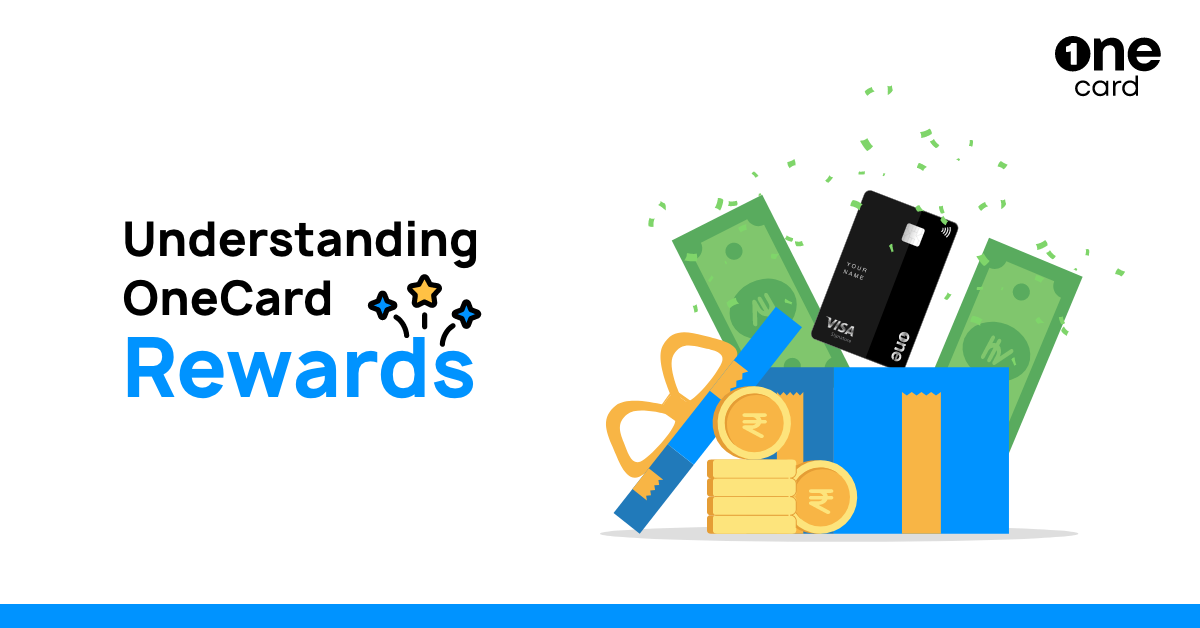 It has been a hectic fortnight since we began issuing OneCard to waitlist members, and we are delighted with the response we have received so far. In a previous post, we had highlighted some features and benefits of the OneCard. Do check it out if you haven't.
Simplicity, Transparency, and Giving Control to users are the core building blocks that define OneCard in our mission to simplify and re-imagine credit cards in India.
During the roll-out, we noticed queries on how the rewards system worked, the value of a reward point, how to redeem points, and so on, so here's a guide to understanding how the OneCard Rewards system works.
You can control your card entirely from the OneCard app, and this includes OneRewards as well.
Points Are Issued Instantly
So far, we have been used to seeing reward points credited several days after making a purchase, either by logging into the bank's website or in the monthly statement, and we wanted to change that. If you make a purchase, you should be able to immediately see how many points you have received.
With OneCard, your reward points are issued instantly and displayed in the OneCard app. For every ₹50 spent, you get 1 reward point.
No more waiting to know your latest points balance.
Fractional Points
Usually, when you spend on your existing credit cards, the reward points are credited after rounding off the amount as per the decided rate.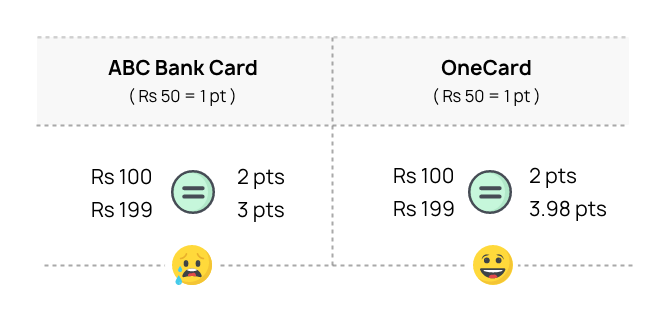 We strongly believe that when you use your OneCard, you deserve to get your money's worth regardless of the transaction amount, so even a quick recharge of ₹25 will earn 0.5 points, or 3.98 points on a spend of ₹199.
Say goodbye rounding off and losing points - get rewarded for every rupee you spend!
Reward Points On All Categories *
Most credit cards have now discontinued offering points on utility payments, fuel, and insurance. All three are important categories, and considering that each household spends a substantial amount on these - why not get rewarded for doing so?
We reward you EVERYWHERE! That's right - your OneCard earns points on all categories of spends, including fuel, insurance and utility payments, without any restrictions on amounts. However, if you've noticed the * above, there is indeed a small exception:
* Reward points will not be credited on transfers, wallet loads, and cash withdrawals.
5X On Top 2 Categories
Many of us tend to use 2 or more credit cards, mostly to maximise rewards or cashback across individual categories, so X Bank card for air miles, Y Bank card for shopping, Z Bank card for dining - ugh, isn't that frustrating? This is how we've been conditioned to maximise our reward points - but what if we told you - no more of this hassle!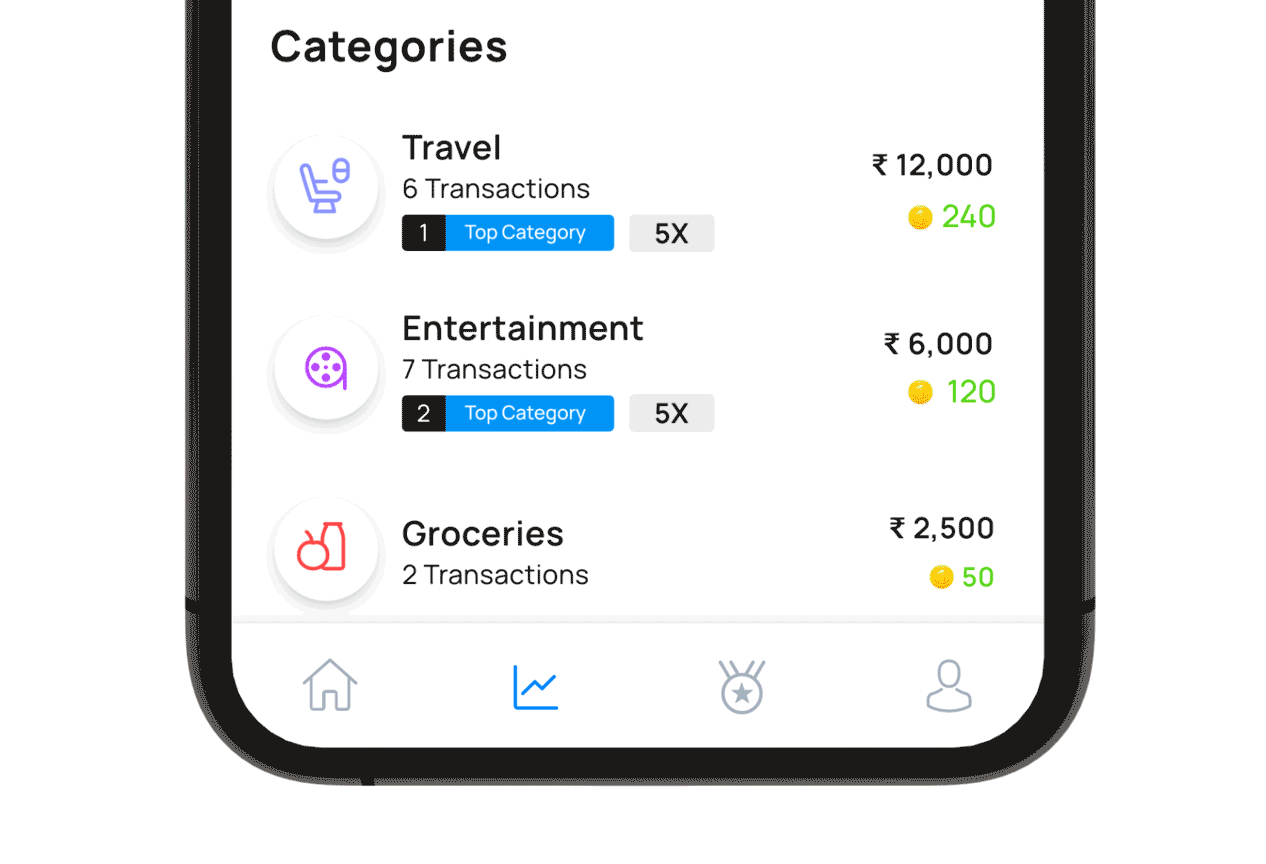 Unlearn these old ways, because your OneCard gives you a chance to maximise your rewards 5X on your Top 2 categories each month. In a mood to splurge on entertainment in June? We've got you covered. Fancy a shopping spree in July? Go ahead and claim your 5X rewards on it. Rewards were never this "Rewarding!"
To be eligible for this, you need to spend at a minimum of 3 categories in a month. The category selection is completely transparent as we're using standard VISA merchant categories.
No need for multiple credit cards, just One is enough 😉
Slick In-App Points Redemption
When it comes to redemption of reward points currently, the struggle is real - whether from the bank's website or call centre, or by sending emails and SMSes after looking at confusing catalogues. The entire process is often time-consuming with a feeling of relief, instead of being quick and with a feeling of delight.
We decided to keep this really simple. Once you have enough points, you can redeem them as you wish from the app itself, on any and all transactions - whether to repay existing purchases or opt for other offers.
Currently, the minimum redemption rate is capped at 10 points per ₹1, and this would vary depending on our partnerships with those merchants at the time.
Just swipe to redeem your points, no questions asked!
Zero Rewards Redemption Fee
Most banks levy a rewards redemption fee when you wish to redeem your reward points, and this is usually around Rs. 150 or so (including taxes).
We wanted to keep redemption completely stress-free, and believe you shouldn't have to pay for redeeming points that you've earned by making purchases. On your OneCard, there is no redemption fee to redeem reward points.
Redeem as many points as you want, as often as you want
Points That Never Expire
Imagine saving up your reward points for many months because you want to redeem them for a specific item or gift, only to see that some of those points have expired - just as you were about to redeem them. Not only do you feel betrayed, there's a sense of loss as well.
When you get reward points on your OneCard spends, they have a lifetime validity. No more worries about expiring points.
You've earned those reward points, you get to keep them.
Even as we continue to add more benefits to the OneCard Rewards Programme along with roll-out of other features, our biggest learnings come from you, the user, so please keep the feedback coming and help us enhance your OneCard experience!
Sharing is caring ;)